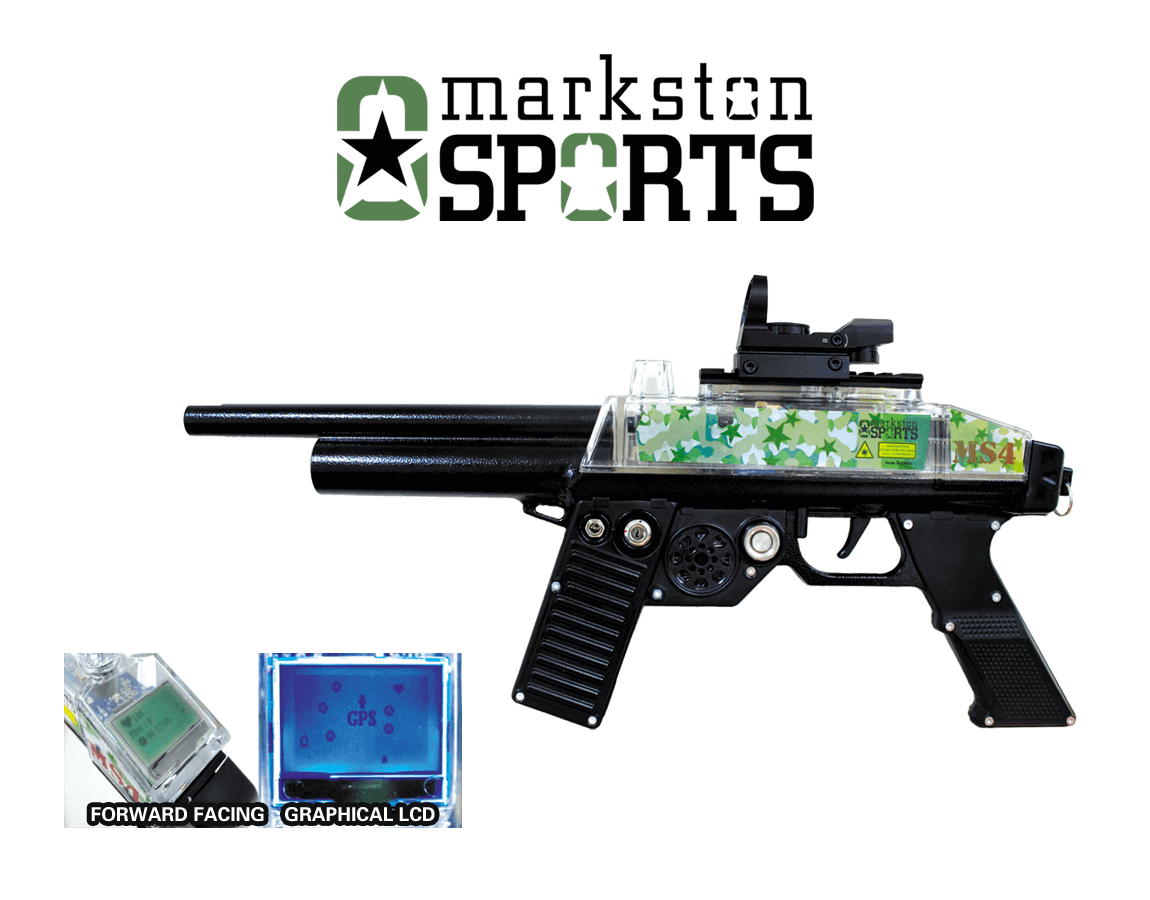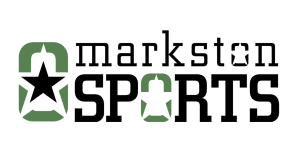 Markston Sports outdoor products are a real laser tag experience, designed to be different from the many laser skirmish products out there today in the way it provides real-time feedback and scoring. Markston Sports is a system that provides all the fun of paintball but without the pain or the mess. It is a perfect fit for corporate events, schools, youth groups, parties, holiday camps, and as a pain-free option for paintball fields.
Awesome outdoor gameplay
GPS gameplay (Command Control Centre)
All-weather hardware
Accurate optics – reliable radio
Multifunctional MORD accessory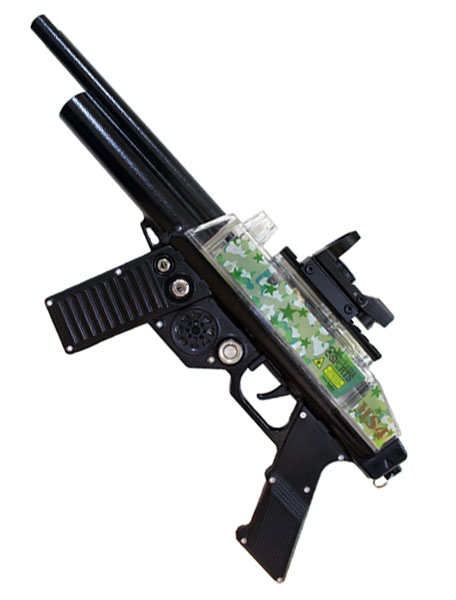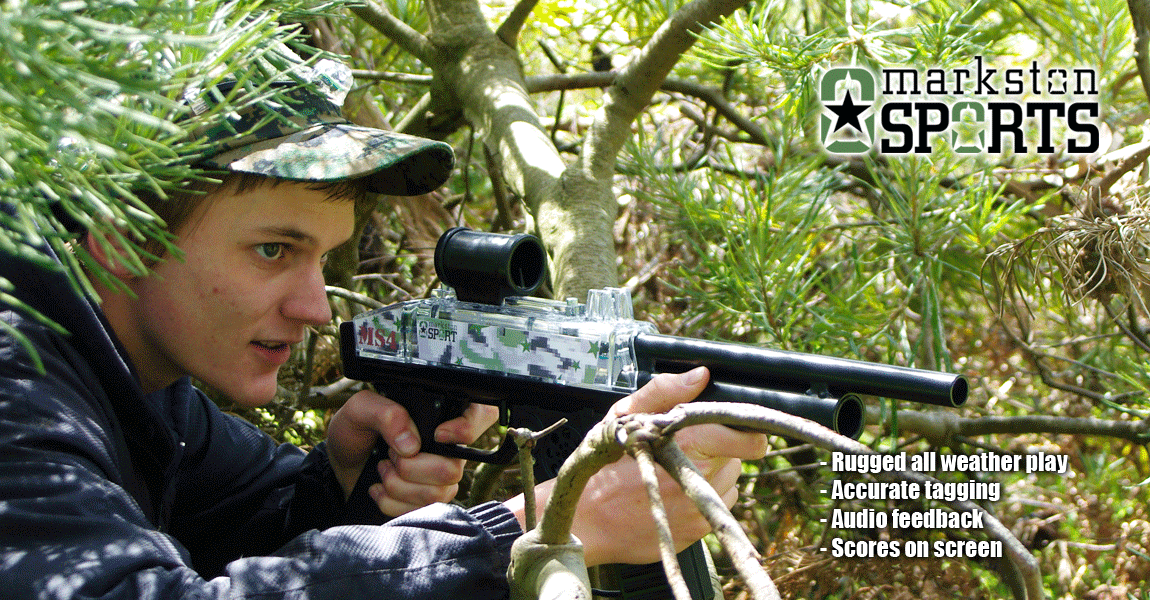 Awesome outdoor gameplay
Produced by the world's largest laser tag company, Markston Sports brings 27 years of experience in laser tag gaming to the outdoor laser tag market. Markston Sports delivers a "Counter Strike" style experience with real-time scoring and feedback. With the introduction of the GPS Command Control Centre, outdoor laser tag games come alive with immersive gameplay options never before seen in the outdoor market. It's all there to see on our Full HD scoreboard!The guns are rugged and easy to use, with lights, speakers and an LCD screen providing instant gameplay feedback and information. With multiple scattering sensors, tagging is accurate at long distances on either the Assault rifle or Sniper rifle. The "true colour" dot sight provides real-time tactical information with 6 colours: indicating aiming, tagged enemy, tagged friendly and more.
Assault rifle or Sniper rifle
Multiple game formats
Real-time scoring on gun
Audio and visual feedback
Real-time Full HD scoreboard
LED scrolling scoreboard
Expanded games with multifunctional accessories
Expanded GPS gameplay
Handheld devices for respawn, medic and referee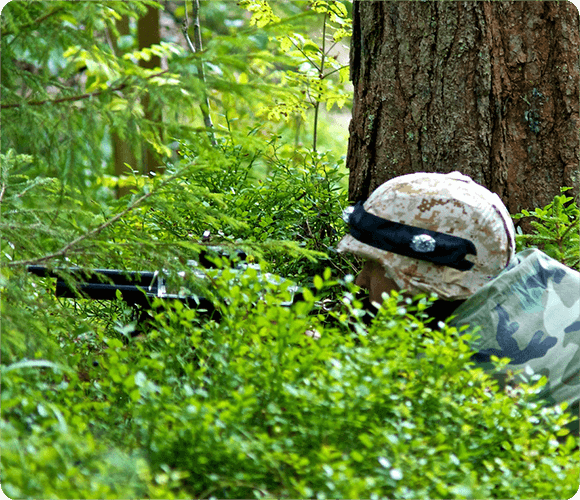 GPS Gameplay (Command Control Centre)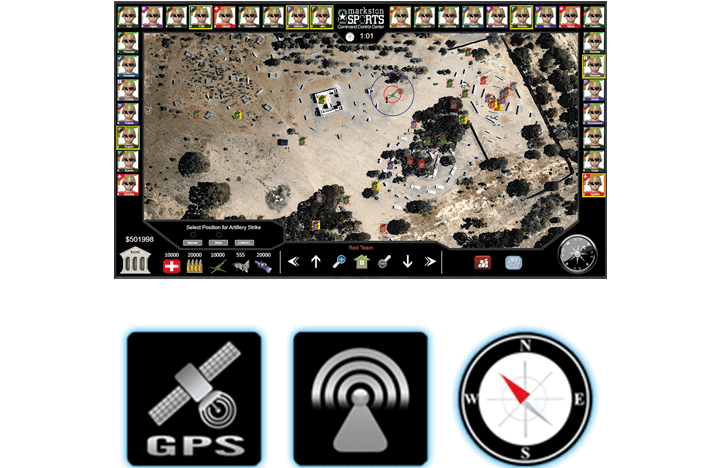 The MS4 Commander System is a hardware and software package that provides a computer-game-like experience. It allows a team commander to view the location and status of all team members via a graphical interface where player data is overlaid on a terrain map photo.For the first time a company has brought real-time, scenario based, PC style CS gameplay into real life outdoor laser tag. Here at Zone we believe the Markston Sports products are a real game changer and, for the first time in this industry, perfect for television and spectators.
Satellite fly-overs to uncover enemies
Artillery strikes
Extra health, ammunition and
Bombing raids by planes
Missiles
Player purchases of features

All-weather hardware
Markston Sports is strong and lightweight, designed to be rugged for repeat play in any environment. A die cast Exoskeleton of aircraft grade aluminium for the body, a 6061T6 extrusion tool for the barrel and 20 other plastic injection moulded parts made of either fiberglass injected nylon or polycarbonate pieces.
A dual position magnetic trigger system and a pair of magnetic push buttons are designed for reliability and easy use. The dual position trigger has one position to pulse the red laser and the other to fire the weapon itself where distance is minimal for repeat action. The two buttons are used with our graphics LCD for menu selection.
Dual position magnetic trigger
Graphical LCD screen
Capacitive touch buttons
Aircraft grade aluminium
Polycarbonate plastics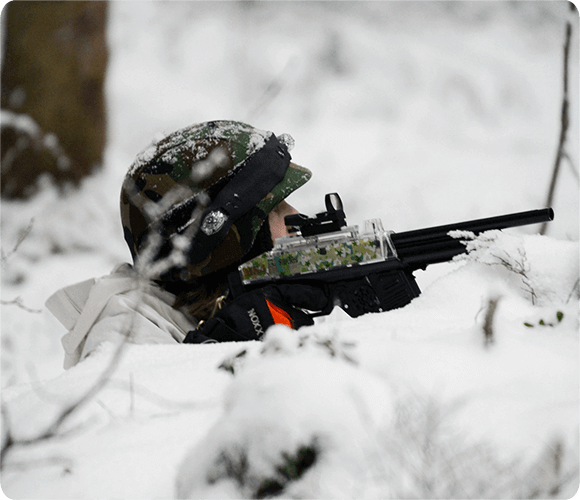 Accurate optics – reliable radio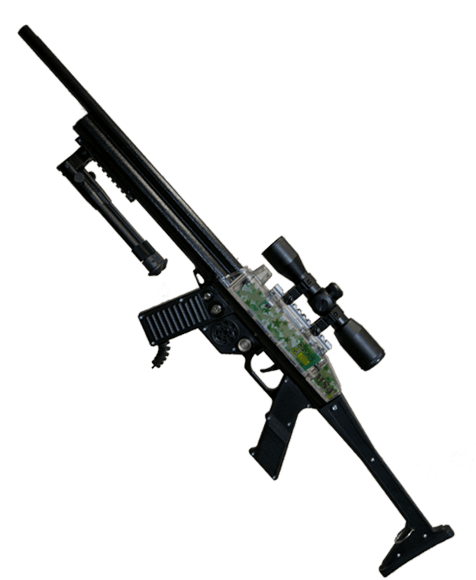 The most basic component, optics, must be exact to achieve optimum performance. After all, outdoor tag is about the transmission and capture of light. Markston Sports MS4 achieves unequalled distance and accuracy in IR transmission for the size and weight of the rifle. Light refracting sensor covers scatter and disperses the IR across the target sensors for accurate IR detection at distances.
Assault rifle range: 80-120 metres
Sniper Rifle range: 200+ metres
26mm lens
Light refracting sensor covers (270° tag zone)
Accurate IR light sensor filters
Markston Sports radio is specifically designed to meet the challenging requirements of outdoor laser tag, while never sacrificing on gameplay. Operating with a central sever, in addition to peer-to-peer communication allows for comprehensive accurate coverage as well as real-time scoring. Markston Sports produces reliable communication contained within invisible "black box" technology—for the operator, it just works.
Central sever and peer-to-peer radio communication
Radio boosters for larger fields
Real-time scoring on scoreboard and gun
Real-time feedback on screen and "red dot" scope