Zone Targets
Arena Targets
 are small, multi-coloured, super bright LED devices integrated into the laser game operating system. Targets don't just provide one extra game; they are a multi-functional game enhancement that can be applied to nearly all 
Helios
games in multiple different ways. Unlike the competition, our targets are incredibly cost effective, enabling you to deploy 60 or more targets for the same cost of only a few of our competitor's products.Integration and customisability allows for almost endless laser game formats: use them in standard games for points or special powers; hype up limited games by setting the targets to award power or health; or enhance strategic games with base shields. Zone's technology turns your existing laser tag arena into a new and immersive laser game experience. Zone Arena Targets are easily the most valuable addition to a competitive location.
Customisable colours, points and timing
Custom game formats
Base defender
Attack mode
Special power ups – Stealth, Invulnerability, Rapid Fire etc.
Replenish health and power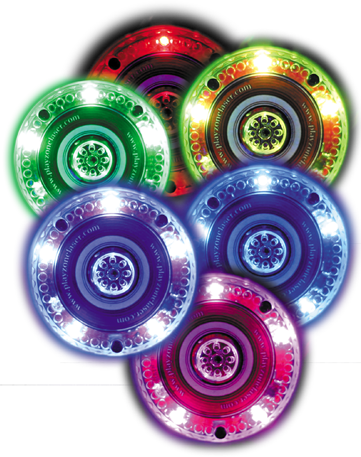 Gamestations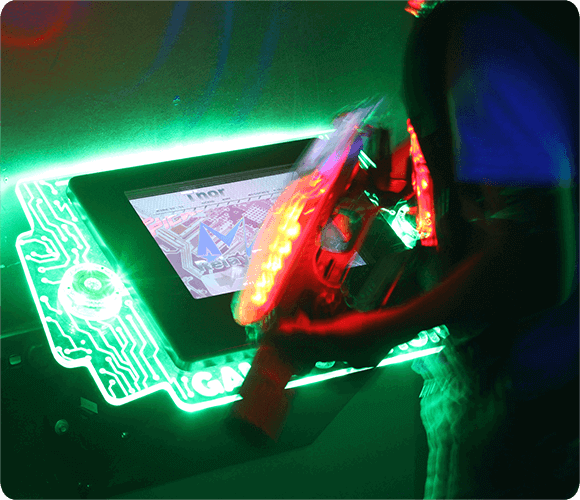 The Gamestations are special interactive wall-mounted, touch screen devices incorporated into the Helios game architecture. The backlit CNC milled Perspex is bright and beautiful, and creates player hotspots. Gamestations instantly recognise and respond to any player in the vicinity. They bring standard laser games alive with fun and excitement, and add custom options and formats.
Power-ups – Players swipe for Stealth, Invulnerability, Rapid Fire, Team Destroyer etc.
Secret Agent – Players change their colour for a short period of time
Assassins – Players take missions to tag specific players for bonus points and much more
Birthday – Only the birthday player can access to get heaps of special powers
Scoreboard – In-game scoreboard
Quiz Zone – players answer customisable questions for points and powers

Zone Turrets
Full of fun, fast paced action, Zone Turret Consoles operate like an arcade game in the foyer. Instead of shooting pixels, customers are tagging their friends in the laser tag arena. Now friends, parents and late-comers can all be part of the action, blasting and scoring all on their own.
The turret console puts the player in command of one of the remote-controlled laser cannons in the arena right from the arcade. Players in the arena can, and will, shoot back – as they should. And just like the great genre of FPS arcade game, the turret has a protective shield which can, if used strategically, protect itself from being deactivated.
New version releasing 2017.
High powered ultraviolet camera
Responsive movement
Dual green laser
Arcade style gameplay
Optional coin operated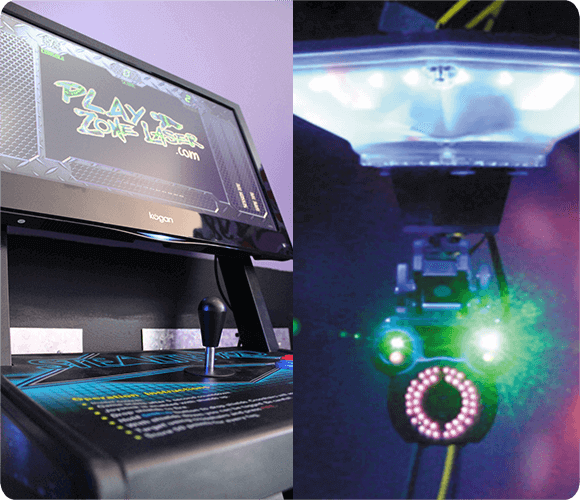 Zone Gate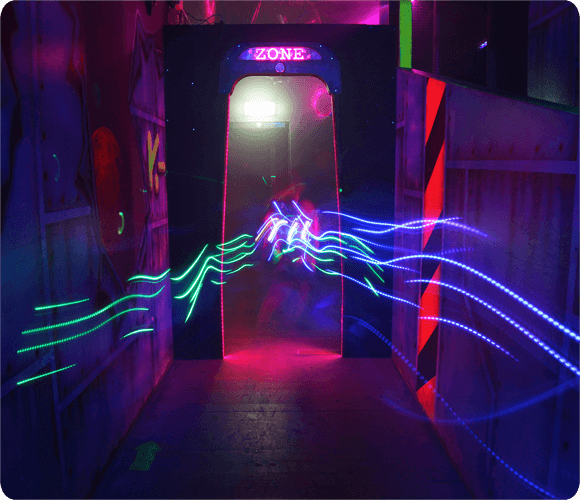 The Zone Gate is a multi-functional arena doorway that can be captured and turned against opponents. It's lit with multicolour super-bright LED strips and incorporates speakers for that immersive interactivity that players crave. Integrating our popular target technology, the Zone Gate can be tagged by players and adds something special to the Zone game architecture.
Capture mode – Players can tag the Gate to capture it and turn it to their team colour. They can pass through, but other teams will be tagged.
Random mode – The gate changes colour randomly, allowing only those of the colour being displayed to pass through without being tagged.
Reload Bay – The gate functions as either a random or team-specific reload bay. Players pass through to reload their power or lives.

Pickup Pad
The Pickup Pad is an illuminated power pick-up platform. The Pickup Pad activates when a player steps onto the device. That player gets to choose from a list of special powers and gear. These can be added to a "backpack", which the player can access and use throughout the game. The Pickup pad is intuitive—players just get it—and it quickly becomes a key strategic hotspot. This innovative device is like none other in the industry and brings laser tag play to a whole new level
Rapid Fire
Relay Bouncer
Retaliation
Shields
Stealth
Invincibility
Mine Shield
EMP

Health Packs
Power Packs
Nuke
Suppressor
Chameleon
Sticky Bomb
Medic Packs
Gate Pass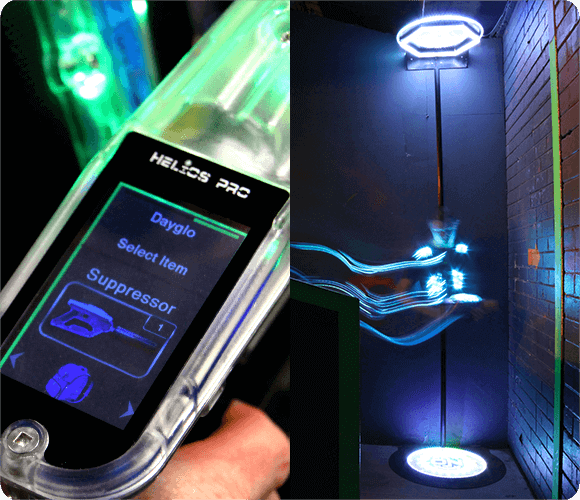 Vest Racks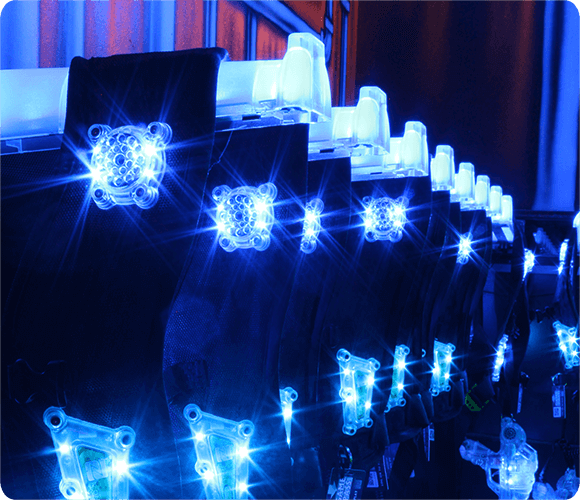 Zone Vest Racks have been the industry standard for years. With DMX or remote-controlled lighting, our Vest Racks are designed to WOW the players as they enter the kit up room. They're simple to install and, with our vests, really make the room come alive. Unlike some of the other product on the market, Zone Vest Racks are structurally designed with polycarbonate plastics for extra strength—trusted for nearly a decade in hundreds of sites around the world.
Control the colours with a touch of a button on the MOC application
Simple yet beautiful charging solution
Easy installation
Structurally designed to prevent breakage