Zone Laser Tag Arenas
Zone Laser Tag arenas are the most diverse and interesting game arenas in the world. Coupled with our interactive arena accessories—Zone Gates, Targets, Outposts, Gamestations, Turrets, Vest racks,Reloads and mine—and the best laser tag systems around, they make for an exciting, immersive game-play experience. Most are science fiction (sci-fi) themed, drawing from the Star Wars roots of laser tag, but Zone laser tag arenas come in all shapes and sizes. Industrial wastelands, alien jungles, cowboys in space, nuclear reactor, crashed spaceship, Egyptian temples; just some of the 800+ Zone laser tag arenas around the world.
Here we showcase some of the best and most interesting arenas, as well as those designed specifically for competition play.

Helios Pro (45 vests) / Base Station (6) / Mines / Reloads / Targets (60) / Zone Gates / Gamestations / Turrets / Vest Racks
Darkzone Box Hill, Australia
Sci-fi planets / alien spaceship
Helios Pro (45 vests)
Darkzone in Box Hill, Australia is an awesome 45 vest Helios Pro stand-alone laser tag venue that has been thrilling visitors since the late 90s. In the nearly 20 years of operation, Darkzone Box Hill has built a reputation as one of the best arenas in Australia. It's a massive four level arena, with sub-levels, ramps, and the iconic "bridge" that overlooks the arena and is fought over by players. The Helios Pro Promo video was filmed at this awesome site.

Laser Battle, Penang-Neil, Malaysia
Egyptian Pyramid
Helios Pro (21 vests)
Laser Battle has four locations in Malaysia. The most exciting from a theming perspective is a Helios Pro venue in Penang that is ambitiously themed as an Egyptian temple, complete with hieroglyphics, pyramids and Pharos. It's a dense maze with raised areas as strategic points to control with targets to tag and score. Check out the Laser Battle Penang, Intel Corporate Event video!
Helios Pro / Base Station (3) / Targets (30) / Vest Racks

1

2

3

4

5

6

7

8

9

10

11

12
Nexus Pro (36 vests) / Base Station / Mines / Reloads / Vest Racks
Megazone Helsinki, Finland
Sci-fi planets / alien spaceship / robots
Nexus Pro (36 vests)
Think that the cold can dampen laser tag fun? Think again. Megazone Helsinki in Finland is undoubtedly one of the most beautifully themed laser tag venues around. Up to 36 players battle it out in the two level 650m2 alien spaceship for ultimate bragging rights.

Big E Entertainment Centre, Shanghai, China
Sci-fi jungle / spaceship
Rift (30 vests)
With one of the most outrageously bright UV (ultra-violet) paint-jobs we've ever seen, the Big E Entertainment Centre laser tag bar has been wowing customers with their frankly bizarre alien landscapes. After having a drink at bar, you enter into a crashed spaceship and venture forth into a bright alien jungle maze, all the while dodging players and tagging points.
Rift (30 vests) / Base Station (3)

Helios Pro – dual arena (40 vests) / Base Station (6) / Mines / Reloads / Targets (40) / Vest Racks
Action Park, Nuremberg, Germany
Western Village / Jungle
Helios Pro – dual arena (40 vests)
Action Park is a dual arena laser tag venue in Nuremburg, Germany, with a clear Indiana Jones influence. Originally built for an "indoor-outdoor" style of play, Action Park opted for the
Helios Pro system for its many features and the ability to get the most out of their dual arenas simultaneously. In addition to their  "Labyrinth", they have a completely wooden "Western Village" complete with saloon buildings, rum barrels, wagon wheels and all.

Competitive Arenas
Zone Laser Tag is a competitive game by nature, so it's a little wonder that competitions arose, including an ongoing World Titles. One of the longest standing competitions is the Australasian Championships established in 1999. The Championship travels around Australia and New Zealand to different venues each year and a large part of the selection process is the competitiveness of the arena.
Competitive laser tag is similar to casual play, but taken to that next level. While there are many variant games, the championship game is the 'three team, five players per team' format. In it players score points by tagging other players and enemy base stations, while trying to protect their own base station from attack. Invariably the games centre on these strategic points and the balance between the ability to defend the three base stations.
While any arena—or in fact no arena at all—can host competitive laser tag, some venues are specifically designed to amplify competitive play. These arenas attempt to balance the effective ability to defend and attack bases, as well as the positioning of reloads and key strategic points.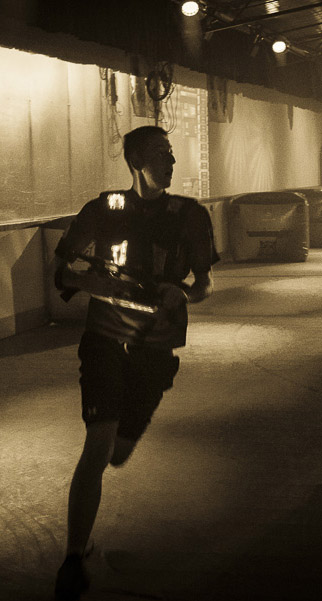 The host of the 2015 Australasian Zone Laser Tag Championships, The Zone Bendigo, reworked their arena to be one of the most balanced competition arenas in existence. The three bases are identical in shape and size, with reloads centrally located. An arena such as this is perfect for competitive laser tag. And the best part, building for competitive play will actually increase the enjoyment of casual players. Even if they might not understand why, casual players will feel that the arena is more fun and fair to play in.